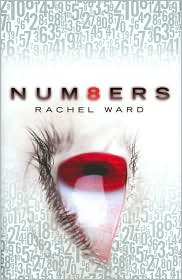 Synopsis:
Ever since she was child, Jem has kept a secret: Whenever she meets someone new, no matter who, as soon as she looks into their eyes, a number pops into her head. That number is a date: the date they will die. Burdened with such awful awareness, Jem avoids relationships. Until she meets Spider, another outsider, and takes a chance. The two plan a trip to the city. But while waiting to ride the Eye ferris wheel, Jem is terrified to see that all the other tourists in line flash the same number. Today's number. Today's date. Terrorists are going to attack London. Jem's world is about to explode!
Publisher:Scholastic, Inc. ; Chicken House
To start off I must say that after reading the synopsis of
this book I wanted to read it so bad.
To know the date of others people deaths would drive me crazy. I probably would be going around
trying to save everyone, even though we all die
eventually. Numbers started off slow and at times it
would pick back up. We meet the characters of Jem and
Spider and the people they are connected to.
Jem is someone who avoids getting to know others for
fear that she will lose them. She has had a tough
life. Spider is the complete opposite of Jem. He is a risk taker
and I would say tries to enjoy life
to the fullest. In the book Jem and Spider find themselves
in a situation where they feel like they
have to run away in order to start fresh with new lives. The cops are after them and so they begin a
journey together. Throughout the novel I felt like I was
apart of their flee. Although their were sometimes
where I thought are you kidding me? Is this even
necessary? That is so gross!
There were some disturbing parts. I found myself
struggling to finish this book. I'm glad I did though.
This book had a good message to send out to readers.
I found myself holding back tears. If you told
me this when I was half way through I wouldn't have
believed you. Overall this is a good book and
I suggest you read it sometime.