This week I got:
Geek Magnet by Kieran Scott.

And I'm not sure if I got this this week or not but I got my Splash Team kit, for Forgive My Fins by Tera Lynn Childs. It includes bookmarks, tatoos, and a team button.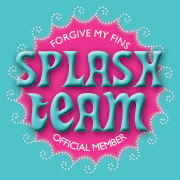 Please forgive me since I've been practically computerless it has been hard keeping track of things. I may have gotten more in the mail just can't remember.