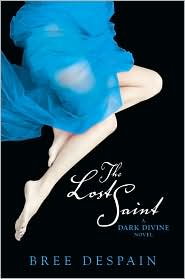 Synopsis:
The non-stop sequel to
The Dark Divine
delivers an eve
n hotter romance and more thrilling action than Bree Despain's first novel. Grace Divine made the ultimate sacrifice to cure Daniel Kalbi. She gave her soul to the wolf to save him and lost her beloved mother. When Grace receives a haunting phone call from Jude, she knows what she must do. She must become a Hound of Heaven. Desperate to find Jude, Grace befriends Talbot - a newcomer to town who promises her that he can help her be a hero. But as the two grow closer, the wolf grows in Grace, and her relationship with Daniel begins to crumble. Unaware of the dark path she is walking, Grace becomes prideful in her new abilities - not realizing that an old enemy has returned and deadly trap is about to be sprung. Readers, raveous for more Grace and Daniel, will be itching to sink their teeth into
The Lost Saint
.
Book Details:
Publisher: EgmontUSA
Pub. Date: December 28, 2010
Format: Hardcover
Pages: 416
My Review:
Bree Despain does not disappoint with her sequel, The Lost Saint. The story takes off a little under a year after Grace's brother Jude ran away. Before starting The Lost Saint I was wondering how Bree could pull off a second novel after her amazing debut The Dark Divine. Well I found myself one again captivated in Grace's world and breezing through the pages just to get to the end.
Not only has Bree continued to give us an awesome book but she also introduces more characters to the story. Talbot and Katie. Katie is a classmate who seems to want Daniel as her boyfriend. I felt the same way as Grace did about Daniel and his seemingly blossoming friendship with Katie. Talbot was a mysterious guy who seems to be into Grace. For some reason I liked Talbot more than Katie. I guess its because he was more in the story and we got to know more about him. Oh, and we also get to see more of Gabriel when he comes to town.
Grace gets a call from her brother and a string of vandalism and robberies follow. Grace and Daniel wonder if Jude has something to do with these crimes. Grace and Daniel tell each other that they would not keep secrets from each other. Turns out they both start hiding a lot of important things from each other. Grace and Daniel's love for each other is tested with the addition to the 2 new characters and with their hidden secrets.
The ending was a little predictable. I was able to guess who the leader of the pack of vandals were. Still I was shocked at how everything went down in the battle. At the end it all made sense about why Daniel was acting so distant from Grace. How could anyone ever doubt him for a second? I love Daniel he is such a great boyfriend to Grace. Even if he ignored her for practically the whole book. Although all of their problems could have been avoided if they were just open and honest to each other.
To try and make a long review short, The Lost Saint is an epic sequel that had me feeling almost every emotion. Fans of The Dark Divine will never be let down as they join Grace as she goes undercover to fight crime with her growing powers and discover who is behind the crimes and find her brother.